I don't know what's going on with this royal wedding business. I'm out of the loop.
But it is interesting that Britain's first female poet laureate Carol Ann Duffy and textual artist Stephen Raw got together to create a limited edition print of Duffy's poetry for the royal couple. Turns out there aren't too many actual pictures of the piece (titled "Rings") floating around. These were posted recently over at
Stephen Raw's website
: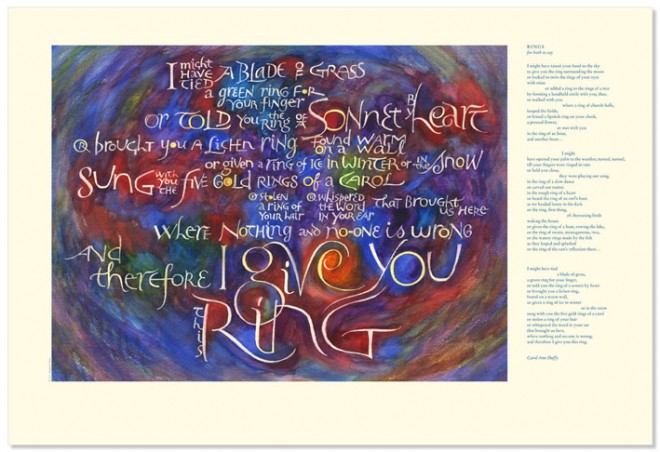 Detail: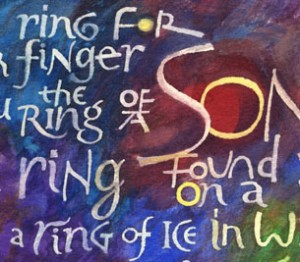 Text of the poem (thanks to
the Guardian
):
Rings by Carol Ann Duffy
for both to say
I might have raised your hand to the sky
to give you the ring surrounding the moon
or looked to twin the rings of your eyes
with mine
or added a ring to the rings of a tree
by forming a handheld circle with you, thee,
or walked with you
where a ring of church-bells,
looped the fields,
or kissed a lipstick ring on your cheek,
a pressed flower,
or met with you
in the ring of an hour,
and another hour . . .
I might
have opened your palm to the weather, turned, turned,
till your fingers were ringed in rain
or held you close,
they were playing our song,
in the ring of a slow dance
or carved our names
in the rough ring of a heart
or heard the ring of an owl's hoot
as we headed home in the dark
or the ring, first thing,
of chorussing birds
waking the house
or given the ring of a boat, rowing the lake,
or the ring of swans, monogamous, two,
or the watery rings made by the fish
as they leaped and splashed
or the ring of the sun's reflection there . . .
I might have tied
a blade of grass,
a green ring for your finger,
or told you the ring of a sonnet by heart
or brought you a lichen ring,
found on a warm wall,
or given a ring of ice in winter
or in the snow
sung with you the five gold rings of a carol
or stolen a ring of your hair
or whispered the word in your ear
that brought us here,
where nothing and no one is wrong,
and therefore I give you this ring.